St. Louis Private Events

1200 Lynch St, St. Louis, MO 63118

Now Booking 2023 Weddings

An unforgettable day calls for a breathtaking venue.
Event Types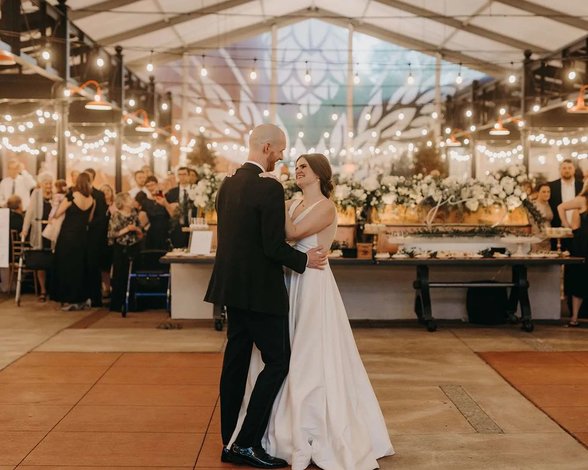 Weddings
An unforgettable day calls for a breathtaking venue. When you choose to make memories with us, you'll gain exclusive access to photo opportunities around our campus. Not to mention: you'll enjoy a private brewery tour and other complimentary perks. Say "I Do" in a space that's just as iconic as you.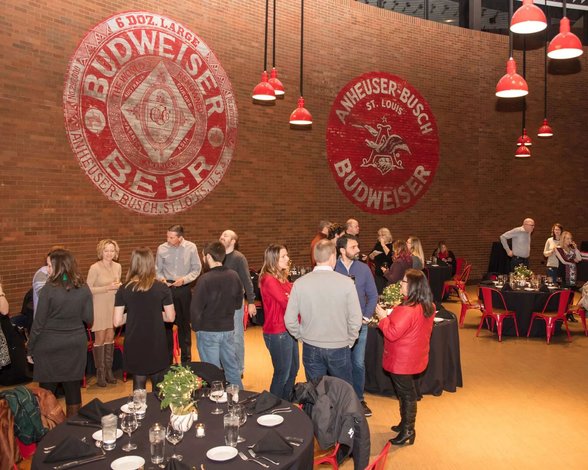 Private
Looking for a unique venue to celebrate your next family milestone or friendly gathering? Our premium spaces are perfect for both! Whether you want to dress it up or keep it casual, you can even choose to cap off your experience with a happy hour or brewery tour.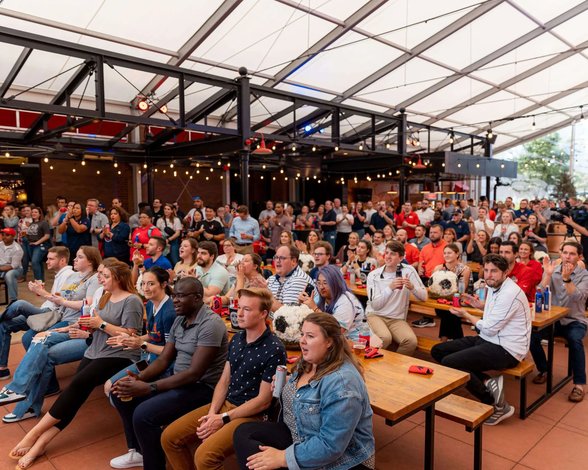 Corporate
"Business as Usual" just got an upgrade. With spaces that range from intimate and historic, to casual and modern: you can't go wrong hosting your meetings and mixers with us. Treat your colleagues to a happy hour or get them learning with a brewery tour.
Outdoor Biergarten

Our Outdoor Biergarten has an urban style and distinct nod to the past that will suit you perfectly. With its tented roof and heating system, it is available year-round and has a capacity of 300 guests.

Indoor Biergarten

The Indoor Biergarten provides a relaxing restaurant setting perfect for any gathering. With a capacity of 150 guests, it can even link together with our Outdoor Biergarten for a total guest count of 500.

Old Schoolhouse Museum

Built in 1868, the Old Schoolhouse Museum will infuse history into any beer or cocktail event. The space, which features high-top tables and rare antiques belonging to the Anheuser-Busch archives, offers a capacity of 150 guests. Fun fact: the Schoolhouse is actually where Adolphus Busch's children received their education.

Lager Room

With a capacity of 150 guests, the Lager Room's intimate atmosphere features its own bar and access to the outdoor patio on Pestalozzi Street! Hand-painted murals compliment its exposed brick walls – making for an unforgettable experience.

Bevo Fest Hall

The BEVO Packaging Facility, built in 1917, is home to this historical and intimate space. With its Rookwood tile and Tiffany chandeliers, the BEVO Fest Halle can host up to 110 guests. The space features a private bar, and trolley service is required for its use.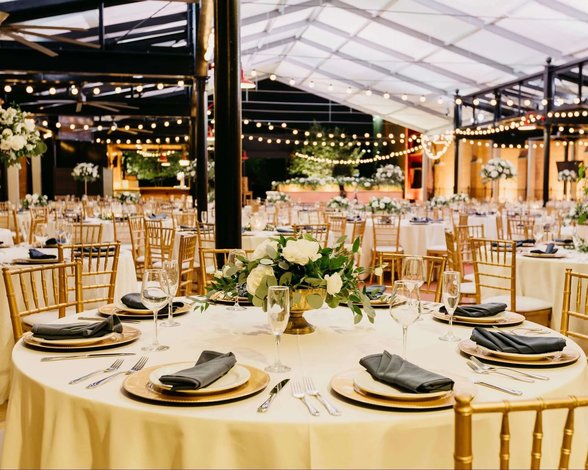 Add-Ons
ASK IF ANY OF THE FOLLOWING ARE AVAILABLE WITH YOUR SPACE:
Custom Curated Buffet by our Biergarten Chef
Full Bar Service of Beer, Wine & Spirits
Personalized Brewery Tours
Gift Shop Experience
Budweiser Clydesdale Meet & Greet
Event Coordinator
Professional Photographer
Ratings & Reviews
Rachel

Choosing the Outdoor Biergarten for our venue was hands-down the best wedding decision we made. Our day-of coordinators Heather and Jerrica were knowledgeable, friendly, and receptive to our every need. Best of all, their services were included! The venue itself is so beautiful and iconic and it blew our guests away. Between tours of the brewery during cocktail hour, the awesome selection of beer and setzers, and the atmosphere and history embedded in the location, our guests could not stop complimenting us on how much fun they had. We did a buffet and multiple guests came up to us during the night to tell us how amazing the food was as well. Bonuses like cornhole, a fire pit, and photo ops with the Clydesdales make this venue one-of-a-kind. Lastly, we can't emphasize enough how smoothly everything ran, thanks to Heather and Jerrica's detailed planning. We didn't have to worry about a thing on the big day and got to put all our focus on fun

Jamie

I cannot say enough about the Anheuser-Busch Biergarten as a wedding venue. Their coordinator, Heather, makes the whole process seamless, and she is organized, helpful and lots of fun to work with!! The food was outstanding, the staff was professional and went above and beyond the night of the reception. It was a magical night in every way. If you are looking for a unique, "St. Louis style" wedding venue, the Biergarten is your place!! We wouldn't change a single thing!!

Emily

Wow, talk about worth the wait! I worked with Heather for over a year and half until the big day and flexibility/communication was astounding from start to finish. She answered any and all questions I had, and gave myself and my fiancé the peace of mind that every concern we had for the wedding day, and how everything would be handled and looked after. From the decorations, to using our provided items for the day, to the FOOD and of course amazing beer choices, I cannot thank AB, the entire crew, servers and Heather enough!! People are still talking about how amazing the venue was, AND the included beer tours as well for guests! I cared more for the reception than anything for this day, because I love to throw parties for my friends and family, and this place did not disappoint! Highly, highly recommend them and of course the location in general (the brewery) which is all fantastic

Brooke

We are very happy with our decision in choosing the outdoor Biergarten for our wedding ceremony and reception with 200+ guests! It was the perfect venue for us and we have gotten SO many compliments from guests that attended! The guests loved the brewery tour and Clydesdale visit between the ceremony and the reception! It was a unique experience unlike any other wedding. The food was amazing! Many guests told us it was the best wedding food they've ever had, especially those mashed potatoes! All dietary restrictions were accommodated, which as a vegetarian bride, was greatly appreciated! We also enjoyed the drink selection, including the countless beers on tap! The venue itself is absolutely beautiful! We could not have asked for a better ceremony space. The fountain behind us was the perfect spot for flowers, making for gorgeous photos. We got all of our wedding photos taken in different spots around AB and with the Clydesdale! There was no need to go anywhere else. They also allowed our dog to be in our wedding, which was something that was very important to us! One of the best parts of choosing this venue is that you get to work with their coordinator, Heather! She is knowledgeable, quick to reply, and is very detail-oriented. She made sure everything turned out exactly as we wanted it! She was there with us all day making sure everything went smoothly. Her being there helped to calm this nervous bride, which is no easy feat! She took care of everything that was thrown her way and we cannot thank her enough!! I could go on forever! Look no further! This is the perfect venue that will forever hold a special place in our hearts! We can't wait to come back and celebrate with some beer in the future

Ellen

It was AMAZING to have a wedding reception at the Biergarten. Heather attended to every single detail as the "go to" person for us and for all of our vendors. The food was SPECTACULAR, service was top notch……. I could go on and on about this venue and what a perfect site this was for us

Maureen

Heather and the staff at the Biergarten were the ABSOLUTE BEST. They were very flexible and respond promptly while planning. The service at the reception was amazing. They were professional and prompt. We had the best day/night ever! I would recommend the Biergarten 100 percent!!